During the Cold War the US Government continued a ground observers program started during World War II. The object of the corps was to provide more observers of the sky looking for possible enemy aircraft sneaking into United States Air Space. This booklet covers the instructions given to those volunteers including Stanley, Ruth and Ronald Harris of Queensbury, NY who manned observers posts all across America.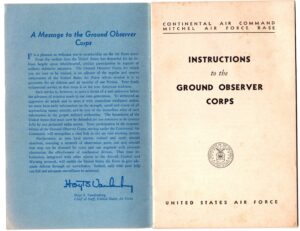 edited by Tom Lynch, Collections Manager
(c) 2023. Warren County New York Historical Society.
contact: [email protected]
Source:  Eleanor & Al Oudekerk Collection # 27
Warren County NY Historical Society, 50 Gurney Lane, Queensbury, NY 12804
Phone: 518-743-0734