The WCHS received an interesting item from Jim Barber of North Carolina (formerly of Glens Falls, New York).
The item was a group of photographs compiled in a fold out album for the Horicon Improvement Company.
I thought we would explore the facilities through Seneca Ray Stoddard's unique photographs.
State of New York
County of Warren
Town of Glens Falls
We the undersigned desiring to form a corporation pursuant to the provisions of the Business Laws all being of full age and citizens of the United States and residents of the State of New York do hereby certify:
The Name of the proposed corporation is The Horicon Improvement Company.
The objects for which the Company is to be formed as the dealing in real estate and development of the same including the building of the same including the building and maintenance of Hotels and Cottages and the establishing, building and maintaining of means of conveyance to and between the same by cable cars as otherwise.
The amount and description of the Capital stock are as follows $150,000 of common stock.
The number of shares of which the Capital stock shall consist is 1,500 at the par value of $100.00 a share.
The location of its principal business officers is to be in the town of Glens Falls, County of Warren, State of New York.
The duration is to be fifty years.
The number of its directors is to be three each of whom is to hold at least five shares of stock.
The names and Post Office address of the directors for the year as follows:
NAMES                                                                                 ADDRESSES
Walter M. Peck                                                 37 Maple Street, Glens Falls, NY
Harry M. Peck                                                    227 Glen Street, Glens Falls, NY
Addison B. Colvin                                             271 Glen Street. Glens Falls, NY
In witness Whereof we have made and signed this certificate this 7th day of January 1895
As you can see above the Horicon Improvement Co. owned the Lake House in Lake George and the cable railway up Prospect Mountain plus the Prospect Mountain House.
THE LAKE HOUSE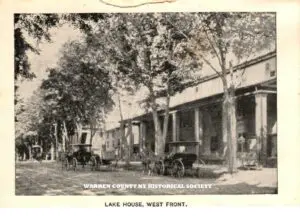 THE CABLE RAILWAY
The cable railway lookin up Prospect Mountain.  2022.010.011h
PROSPECT MOUNTAIN HOUSE
edited by Tom Lynch, Collections Manager
(c) 2022. Warren County New York Historical Society.
contact: [email protected]
Source:   Jim Barber Collection  # 91
Warren County NY Historical Society, 50 Gurney Lane, Queensbury, NY 12804
Phone: 518-743-0734