A Little Bit of History
January 6, 2021
          The Warren County Historian's office was recently given two scrapbooks that were kept by someone in the early 1930s to the mid-1940s.  One of the scrapbooks is labelled "Glens Falls History" and the second is labelled "Glens Falls & Vicinity Book 2 Saratoga County."  The scrapbooker clipped the local (Glens Falls) newspapers, the Saratoga paper, the Knickerbocker News, as well as other unidentified papers.  Both of the scrapbooks were the traditional scrapbooks of the time, 'tied' between the covers.
          The history scrapbook is in good condition.  Many of the articles come from the centennial edition of  The Post Star. Clippings are generally well trimmed and pasted in the book with careful thought.
          In the second book, the person  was not as careful when clipping and pasting.  Some of the articles include specific dates, most do not.  The pieces were glued in the scrapbook in no particular order.  The second scrapbook does include many obituaries.
          Our first column of the new year takes a look back at the 'important' news 1930s as seen through the scrapbooker's eyes.  This column includes some of the interesting items we found.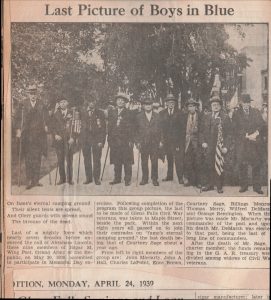 The Grand Army of the Republic (GAR) was an organization for former Union soldiers.
Celebrating the centennial – some of the participants could possibly still be around.  Wings Tavern was not still around.  This is a set for the celelbration.
Monument Square is still an important point in downtown Glens Falls
Those of us who can remember the final days of the Madden Hotel might be surprised at this article
Glens Falls Insurance Company was an important part of business in Glens Falls.
A simple collage made from newspaper pictures.
You should recognize this building on Elm Street.  It was know as the Clark Brothers Glove factory.  They produced fine silk gloves and other silk and rayon pieces.
Article put together by Stan Cianfarano, Warren County Historical Society Co-President and Warren County Historian for the Warren County Historical Society.