Rewind:  December 15, 2022
"Christmas in Glens Falls"
Downtown Glens Falls and Memories of Christmas
(Note:  City Historian Wayne Wright wrote an article on Christmas in the city for a Rewind article in December of 2010.  Using that as a starting point, he has embellished it and added a series of pictures to help us remember a Glens Falls Christmas.  We have added some photos from 2022 for this column). 
The Warren County Historical Society wishes all a joyous holiday season and a healthy, happy new year.
The above photo was taken on December 16, 1970 by Richard Dean, looking north on Glen Street from the Urban Renewal parking lot on the corner of Glen and Warren Streets.  The City's Christmas tree remained at this location until the Burger King Plaza was completed in 1985.
The 1970 Glens Falls City Directory gives us a look at the many businesses that called downtown Glens Falls home.  How many of the retail businesses that claimed Glens Falls as their home do you remember?
On the east side of Glen Street, north of Ridge Street were: Burns Newsroom, Burns Wine & Liquor Co., M.C. Scoville Jewelers, Fanny Farmer, Mack Drugs, Kuhn Brothers, Gorman Shoes, Jupiter Discount Store, Triangle Shoe Store, F.W. Woolworth Co., Frankel Shops and Reliable Jewelry.  The First National Bank completes the east side of the block with City Park and Crandall Library on the corner of Glen and Bay streets.
On the west side of Glen Street starting at W.T. Grants Co. (Hudson Avenue today) you would have found the following retail businesses:  Morris Tailor Shop, Wedge-Way Barber Shop, Stephen Hertz Jeweler, Robert's Jewelry, Russell & Wait Stationers, Albert's Gifts & Jewelry, Erlanger's Mens and Boys, The Outlet, Tom Thum Bookstore, Merkle & Gelman, C.V. Peters, Achenbach's Ltd Jewelers, Flair Shops, Endicott-Johnson Shoes, Eagle Clothing, The Pink Sheet, Breslaw Bros. Furniture, and National Auto Store.  Glens Falls National Bank & Trust Company and Fountain Park being listed on the corner of Glen & South streets complete the west side.
The 1970 city directory lists no businesses on the south side of Warren Street, going east from Glen Street, as Urban renewal had purchased all of the buildings from Glen Street to Church Street.  On the north side of Warren Street, these stores were listed:  Mike's Submarine Sandwich Shop, The Powder Box, David's Shoes, Towart Studio of Photography, Kang Chow Restaurant, DelSignore Hotel and Italian-American Restaurant, Breslaws Discount Outlet and St. Mary's Academy were all before Church Street
The following businesses claimed the east side of Ridge Street as home:  The Clothes Hut, The Children's Store, The Fashion Shop, Johnny's Shoe Store, Van The Shoe Man and the Glens Falls Health Center completed the block before Maple Street.  On the west side, Acoustician Hearing Aide, M. Scoville Jewelers, Young Shoes, Spain Travel Inc., Crawford & Co., Inc., McBride's Paint & Wallpaper, Inc., and Harold's Country Kitchen with City Hall and City Park finishing off the block before Maple Street.
According to the recollections of those who did their Christmas shopping in downtown Glens Falls, each of the shop owners took pride in the Christmas wonders displayed in the windows along Glen, Ridge and Warren Streets.
The garland and Christmas lights that were hung from the street lights were furnished by the Glens Falls Chamber of Commerce and the City.
No memories of Christmas in Glens Falls would be complete without mentioning Donald Metiver.  Don wrote a newspaper column for the Post Star for many years including an annual Christmas column about Glens Falls of his youth.  He also provided many hours of entertainment with his Christmas memories that were broadcast on local radio stations during the holiday season.  You will find parts of two of his columns below.
Post Star for 12/18/1976  "Do you remember downtown at Christmastime?  The things that I especially remember start with the marvelous decorations that were always found on the front of Fowler's.  Standing in Exchange Street and watching those great moving figures in the store windows, and Merkels was a major stop to view the decorations along with the banks.
Christmas music poured from the balcony at Braydon and Chapman's in Bank Square and the city would put up some special decorations.  One year it was a Santa in a sleigh, then another year, someone had the bright idea of putting a church in the middle of the square.  It was pretty until about the 20th car hit it trying to get through the intersection.
The church mentioned in Don Metiver's memories     (Photo source: Bridging the Years)
Fanny Farmer, remember how good that little place smelled?  They would fill the Glen Street window with chocolate Santa's.  Boxer's had windows filled with perfume gifts and the Sugar Bowl would put out ribbon candy."
From another article:  Post Star for 12/1/1984 "Christmas is my favorite holiday and my favorite season.  Growing up in Hometown, USA meant each Christmas season I would be taken downtown to visit all the "toy lands."  Every store would have a special section clearly marked as "toy land" where they would have the latest games, trucks and other toys waiting to be purchased.
The Tire Shop always had a great display of older kid's toys; things like wagons, bicycles, baseball gloves, footballs and pedal toys like airplanes and cars.  There were the sleds, real sleds, like Flexible Flyers (How many of you still have your Flexible Flyer?  Mine is hanging in the garage waiting for someone to take it for a ride. WW)  Steiners, on Warren Street also had a great toy department.
Downtown was magic at Christmas.  The insurance company had two large trees on either side of the front entrance in Monument Square.  Merkel's was all decked out and strings of lights went across all the streets and it usually snowed making the balsam wreaths on the stores even prettier.  Growing up in Glens Falls at Christmas is one of the memories I treasure."
The Glens Falls Insurance Company     (Photo source:  Bridging the Years)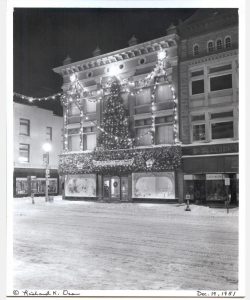 The front of Fowler's Department Store in downtown Glens Falls at Christmas. A Richard Dean photo courtesy of Glens Falls City Historian.
From 1980 through 1988, I had the pleasure of being part of the City's Christmas decorations crew.  The color photos included in this Rewind were taken by Richard Dean in 1984 and are part of the City Historian's 'Richard Dean Collection.'  I feel that it is a compliment that Mr. Dean felt highly enough of our work that he would take these beautiful pictures of it.  It was one of the most rewarding parts of my job at that time.
-Wayne Wright
Scenes from 2022
The bandstand 2022
The tree outside the Queensbury Hotel
The tree from another viewpoint
The lights in City Park
The lobby of the Queensbury Hotel
The Grinch is checking into the hotel
The Queensbury's gingerbread house