Lake George businessman Charles R Wood created the Gaslight Village amusement park at Lake George, New York after his success with Storytown USA.
Construction on the site began in the late 1950's and the village opened for the 1959 tourist season. The property was located at the foot of Lake George adjacent to the Fort William Henry Hotel.
A second view of the village construction site taken from the air looking to the southeast. Note the layout for the horse drawn trolley tracks.
While the village was under construction a staff had to be assembled. Staff were costumed in Gay 90's turn-of-the-century outfits befitting the gaslight era of America.
An early concept drawing of what the village would look like.
Let's take a tour of the village.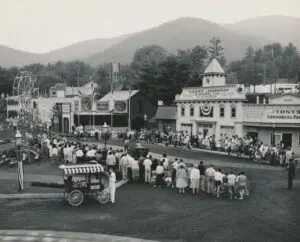 The village was open in the evening and at night,
Gaslight Village offered plenty of entertainment and amusement rides for the enjoyment of visitors of all ages: ice shows, vaudeville shows, trained tigers, silent movies, and much, much more..
"BODEO-DO…  BODEO-DO… DE-DO-DO"
Gaslight Village was demolished about 30 years after opening. Today we have only fond memories of this unique theme park.
edited by Tom Lynch, Collections Manager
(c) 2022. Warren County New York Historical Society.
contact: [email protected]
Source:   The Charles R Wood Digital Photograph Collection #11
Warren County NY Historical Society, 50 Gurney Lane, Queensbury, NY 12804
Phone: 518-743-0734